Bewitched remake in the works. Woe.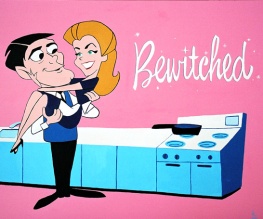 Oh Christ, is this really happening? Almost forty years after its original run ended and six years on from the dire big-screen 'reimagining' which nearly ended Will Ferrell's career, classic sitcom Bewitched is reportedly being prepped for a comeback.
The original programme, which ran from 1964 to 1972, starred Elizabeth Montgomery as a witch trying to keep her supernatural talents hidden from her suburban businessman husband (played by a succession of men called Dick. No, really).
Then, in 2005, Nora Ephron masterminded an inexpressibly bad 'reimagining' which starred Will Ferrell as an actor offered the opportunity to star in a remake of the sitcom. He insists that the lead role of Samantha be played by an unknown, and finds the perfect candidate (Nicole Kidman, natch) in a bookshop. But – wouldn't you know it? – Kidman's character is herself a witch trying to live as a human, who then has to pretend to be a witch pretending to be human (which isn't really pretending at all) and MICHAEL CAINE IS HER FATHER OH GOD WHY. Bewitched has had a chequered history, is sort of what I'm saying.
We originally thought CBS and Sony were planning another film, but it turns out they've commissioned a script for a new TV show. Still, at least we won't have to review it…
About The Author