Bill and Ted 3? Excellent!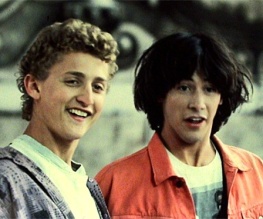 It could all be bogus, but Keanu 'Theodore' Reeves has mooted the possibility of a Bill and Ted threequel. We are SO excited.
Reeves (who remains friends with his costar Alex Winters) has apparently spoken to original writers Chris Matheson and Ed Solomon about a belated follow-up. The original films, Bill and Ted's Excellent Adventure and Bill and Ted's Bogus Journey, were screened in 1989 and 1991 respectively.
Reeves suggested that the film could be screened in monochrome and incorporate 4D elements (such as moving chairs, water jets and wind machines). He also name-dropped directors ranging from Martin Scorsese to Werner Herzog via Francis Ford Coppola. Actually, this does sound like a hoax, doesn't it? Never mind – Best For Film intends to keep the faith and hope against hope that next year sees another visit from the most bodacious time-travelling phonebox in San Dimas…
About The Author