Bill and Ted 3 has a director!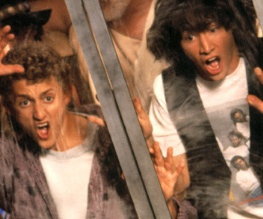 Brace yourselves amigos…because it looks like Bill S. Preston, Esq. and Ted 'Theodore' Logan are going to make a comeback. It has been twenty one years since we last saw the pair on cinema screens and they might now need their time machine phone booth to go back and find their long lost youth. The best thing about it? It isn't going to be a remake, or a reboot OR feature Shia LaBeouf! Hurrah!
Ancient revivals haven't been going so well lately. Ghostbusters 3 is playing an endless game of the Hokey-Cokey with Bill Murray perpetually unsure as to whether he is in or out of the project. However both Alex Winter and Keanu Reeves have signed up for Bill and Ted 3 with original screenwriters Ed Solomon and Chris Matheson back together penning the script.
Now comes the news that Galaxy Quest director Dean Parisot has joined the cast to direct the latest installment. Parisot has a very good pedigree for guiding aging stars around a set as he is currently directing octogenarian sequel Red 2 with Bruce Willis, Anthony Hopkins and Helen Mirren.
Sadly whilst the key cast and director are attached, the project is still seeking a studio to co-fund the project. If you have a spare £20 million kicking around then you know who to give it to…(Euromillions winners we mean you). http://credit-n.ru/offers-zaim/otlnal-microzaimi.html http://credit-n.ru/offers-zaim/migcredit-dengi-v-dolg.html
About The Author