Bill Murray officially out (again) of Ghostbusters 3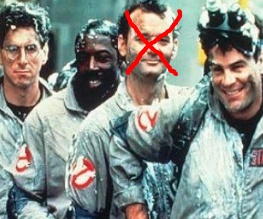 We have no question in our minds that if Wes Anderson were poised to direct Ghostbusters 3 Bill Murray would be in it faster than a pig in poo. Alas, he is not attached to the project and once again Murray has decided to back out apparently for the final time. Wise move, Bill. Wise move.
The ill fated project has had so many set backs over the years it makes you wonder whether it is cursed. Dan Aykroyd really must be this desperate. Either that or he has been sampling too much of his home brewed vodka to see what the rest of the world (and Murray) sees: this movie is a terrible, dreadful idea!! We all witnessed what happened when Spielberg tried to resurrect Indiana Jones, and it sure was not pretty…in fact we dare not speak its name for fear of breaking down into a cowering heap. Why then can the makers of Ghostbusters 3 not take the hint and just put down their pens and back away slowly (hands where we can see them fellas…)
Alas, it is not to be and it has been announced that production will probably begin on the third installment next year, just without chief ghostbuster, Peter Venkmann. Aykroyd seems blindly optimistic, saying "We've got a brilliant new writer (Etan Cohen) on it and we'll be passing the torch onto a (new) generation. We're working on it to make it just right to satisfy our fans. I'm confident we'll be in production in the next year."
New generation? Oh dear god, please don't say Shia LaBeouf will be in it…PLEASE GOD NO!!!!!!! We don't think we can stand by and watch LaBeouf take over and destroy another franchise. Hopefully there will be a lot more disasters in between now and when they go into production…come on curses! Do your stuff.
http://credit-n.ru/kredity-online-blog-single.html http://credit-n.ru/forex.html
About The Author