Bill & Ted 3 script written and ready to go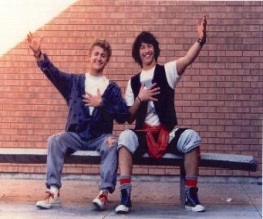 The script for the third film in the Bill & Ted series is complete, according to a elated Keanu Reeves, who said that "Yeah, we have a script. We're trying to put it together. It's a good script, too".
Back in 1989, it was Bill & Ted's Excellent Adventure that kick-started Reeves' career. Incidentally, he probably gave his career-best performances in these films as Ted, a grungy, Heavy Metal-loving teenager who, in true 90s fashion, over-used words like 'Bogus' and strummed an air guitar. The films saw Bill (played by the never-that-popular Alex Winter) and Ted travel through time, then to heaven, hell (Bill & Ted's Bogus Journey) and back again.
The script has been written up by Chris Matheson and Ed Solomon, the same pairing who wrote the first two films, and involves older versions of Bill and Ted trying to write a song that's capable of 'saving the world.' The film is yet to get the green light, but with Hollywood being obsessed with remakes at the moment, there's a good chance we'll get to see the Wild Stallyns back on screens soon. Whether that's a good or a bad thing, we don't even know any more.
About The Author