Billy Connolly completes Hobbit cast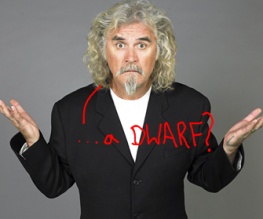 1 year and 110 days after we reassured an anxiously waiting world that Martin Freeman had indeed been cast as Bilbo Baggins, the tortuous process of finding actors with little enough planned over the next forty years to star in The Hobbit has finally ended. With Billy Connolly. Playing a dwarf.
The Big Yin has rounded off the cast with the confirmation that he will be appearing as Dáin Ironfoot, a mighty dwarf warrior who also happens to be cousin to Thorin Oakenshield (Richard Armitage).
In a statement, director Peter Jackson said "We could not think of a more fitting actor to play Dáin Ironfoot, the staunchest and toughest of Dwarves, than Billy Connelly, the Big Yin himself. With Billy stepping into this role, the cast of The Hobbit is now complete. We can't wait to see him on the Battlefield!"
Despite his background in comedy (he once said that "My agent regards my Hollywood career as an expensive hobby"), Connolly has extensive acting experience, including several hefty action roles – he played the psychopathic 'Il Duce' in 1999's The Boondock Saints and briefly accompanied Tom Cruise to Japan in The Last Samurai. D'you know what, Peter? We can't wait either.
About The Author