Blomkamp confirms Copley for Chappie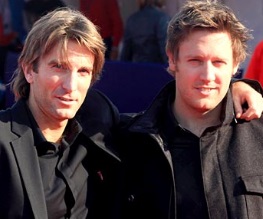 Hot on the heels of his Matt Damon charged sci-fi Elysium, Neill Blomkamp has already begun the hot and heavy preparation for his next project – and he's bringing a friend along for all the fun. Shalto Copley had no stars in his eyes until this intrepid filmmaker shoved him into his short film Alive in Joburg, which was expanded into the frankly superb District 9. Since then the two South Africans have settled into a symbiotic relationship: Copley already has a part in the up-coming blockbuster and now he has confirmed their third collaboration on Blomkamp's next film, Chappie.
Copley made his announcement on Facebook in a succinct post simply reading "is Chappie". Production has been, unsurprisingly, based in Johannesburg but beyond that any information concerning the premise and characters has been kept on the down-low. All Entertainment Weekly has been able to uncover is that the movie is meant to be a sci-fi comedy and will be taking place "in an unusual setting".
This doesn't mean, however, that you'll be missing out on any Copley action. He's already completed work as the villain in Spike Lee's version of Oldboy set for release by October as well a scoring a supporting role alongside Angelina Jolie, Elle Fanning, Juno Temple and about fourteen of the Pitt-Jolie brood in Robert Stromberg's Maleficent. But before any of that it's Elysium that will taking centre stage when it hits our screens come the 9th of August.
Think Blomkamp's got a handle on the sci-fi gig? Or do you wish he'd give something else a go? Let us know here!
About The Author