Brad Pitt pretty much confirmed for WWII drama Fury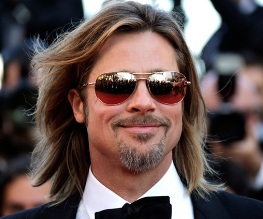 Brad Pitt is in talks to star in Fury, a WWII drama directed by David Ayer. Taking place in 1945 as the Nazi regime collapses, a five-man crew of an American tank called Fury battles a desperate German army. Call us presumptuous, but we reckon Brad is gunning for an Oscar by taking on this role. The Academy loves war stuff.
Mr Pitt is pretty comfortable with WWII era films, having starred in Quentin Tarantino's critically acclaimed Inglourious Basterds. Of the new project, director Ayer said he aims to "bring a fresh execution to the genre. What these men went through is worthy of a complex, honest portrayal. This will have incredible visceral action and complex rich characters. I plan to bring tank combat to life in a way that lands with a modern audience".
Tank combat, eh? Sounds intriguing. Hopefully his scenes of tanks blowing large amounts of stuff up will be infinitely more interesting than the snooze fest in the last part of G.I. Joe Retaliation. Until then, be sure to catch Brad in zombie socio-political blockbuster World War Z.
About The Author