Bradley Cooper to play Satan in Paradise Lost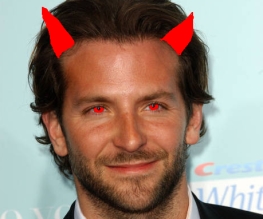 French speaking, lady-killing (not literally, as that would be a police matter), 'hottest thing in Hollywood' Bradley Cooper looks set to be given a starring role in Alex Proyas' upcoming adaptation of John Milton's Paradise Lost, playing Satan himself. A suave, sophisticated, suited and booted Satan? Well, possibly not, as it seems as though the film will be shot using the same motion capture technology used to film the upcoming Tintin: The Secret of the Unicorn.
The involvement of Cooper looks set to make this film a box office smash, but the more we read about it, the more it seems like the film will be a very loose adaptation. Very loose. In fact, it sounds like it's going to be 300, but in Heaven.
Proyas has some decent experience in the action genre having directed the Best For Film favourite I,Robot. However, his last film was Knowing, and the less said there is about that, the better. The film is set for release in 2013, as they take the time to digitally un-chisel Bradley Cooper's face.
About The Author