Brady Bunch Bouncing Back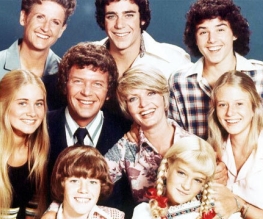 Originally we were quite excited about this because we got confused and thought The Brady Bunch sitcom that ran from 1969-1974 was as funny as the 1995 The Brady Bunch Movie. It's not. Turns out the movie is a parody of the gushingly harmonious 70s morality sitcom nonsense.
Mike Brady is a widowed architect with three sons, who marries Carol Ann Martin, a woman with three daughters, and this blended family live together in joyous happiness in suburbia with the dog and the live-in housekeeper. The producers wanted Carol to be divorced but the network refused. No mention of how Carol ended up with three daughters is ever made (maybe she was a high class escort in a Taiwanese brothel) which sort of tells you everything you need to know about the show.
It was wildly popular at the time and now Vince Vaughn has taken it upon himself to create a new CBS show. Written by Mike Mariano (My Name Is Earl), the story will focus on Bobby Brady, the youngest son, who's now grown up, divorced and married again, and has kids of his own and a child with his new wife who also has kids, and they both have ex-spouses who come and go – crazy family dynamic hey? The 1995 movie is genuinely a real treat, but apparently this new show will have none of that humour and just be riddled with family love and a sprinkling of morality, we'll give it a miss.
About The Author