Brand-new 60-second teaser for Django Unchained released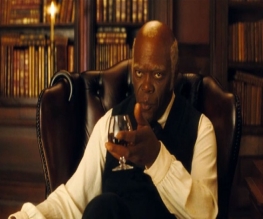 A new trailer for Quentin Tarantino's latest themed 90-minute death-fest Django Unchained has blazed onto the interwebs, and unfortunately for us, it's an absolute cracker (it won't be released in the UK until January 13, 2013, a full month after those ingrates across the pond). At first glance, it's all smoking revolvers, a possibly dead but definitely bangable Kerry Washington, Samuel L. Jackson's character, known only as "Stephen" (like Cher, but somehow more fabulous) doing his best Godfather impression, and a general aura of "Lads on Tour", but with horses instead of EasyJet specials.
There are many exciting things in the teaser to keep us going until January though, such as the coked-up-caterpillars Leonardo DiCaprio has affixed to his face in the guise of eyebrows, as well as the delightful sight of Jamie Foxx attempting to command authority whilst resembling a knickerbocker-ed Renaissance baby with indigestion. With a brillo-pads remix of Ennio Morricone's Ecstasy of Gold snaking over all the shooty, skinny-dipping and Klu Klux Klan bits in the first half, Django is shaping up to be Tarantino at his very wackiest, and we can't quite wait to see what more of this clearly mental clusterfuck Tarantino exposes at Comic-Con next weekend. Our money's on Samuel L. Jackson and Jamie Foxx driving the spaghetti western version of the Pussy Wagon. The Pussy Horse and Wagon, if you will.
About The Author