Brian Cox hoping to make RED 3 – EXCLUSIVE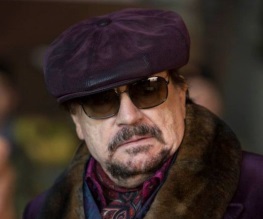 We were speaking to actor Brian Cox last night at the BAFTA Scotland Awards (#humblebrag), and while he fielded questions on everything from Doctor Who to Scottish Independence and his hometown Dundee's City Of Culture bid, we couldn't help but ask about the possibility of there being a RED 3.
Comic book movies reigned supreme at the 2013 summer box office, and while Iron Man 3, Man of Steel and Kick-Ass 2 showed that superheroes were still the poster children of that particular genre, RED 2 – based on Warren Ellis and Cully Hamner's limited series of the same name – was arguably the most entertaining of all.
With $129 million in the bank on a budget of $84 million (and DVD sales figures still to come), there is certainly some financial incentive to produce another instalment. In the franchise, Cox plays Ivan Simanov, a Russian ex-secret agent with something of a foot fetish, and if his words are anything to go by, a sequel is very much on the cards.
"Yeah, hopefully. There is a RED 3 in the offing, and I'm just waiting to hear if it's happening. I'm hoping it will, because obviously Helen Mirren and I aren't finished [with with our characters]."
Well, that sounds promising. You can check back later for a full report of the evening's festivities, or catch up with our reviews of the RED series so far (here's one, here's the other), or head to the Best For Film Shop to buy some comic book movies of your own. You've got loads of options, basically.
Would you like to see a third RED film? Let us know below!
About The Author