Brian Cox is going to be a daddy (in Dog Fight)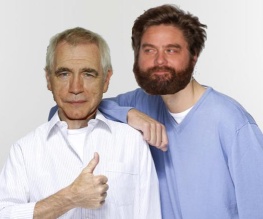 Brian Cox, famed for playing evil guys and knowing everything about the universe, has apparently joined the cast of Dog Fight as the father of Zach Galifianakis. Jay Roach (Austin Powers, Meet the Parents) is directing the project, which will star Galifianakis alongside Will Ferrell as two rivals running for congress in a small district of North Carolina.
Cinema Blend reports that Cox will costar as Galifianakis' father, a retired senator who 'has always been distant from his family'. Filming is currently taking place in New Orleans, and Dogfight will be coming out on August 10th 2012, timed alongside the run-up to the 2012 presidential election.
We're OK with Cox playing a retired senator, as long as he promises to leave all the mutants alone from now on. What we're really wondering is whether there any other father/son combinations that have been missing from the big screen? Christian Slater and Jack Nicholson? Ryan Gosling and Ryan Reynolds? Let us know your thoughts below.
About The Author