Bridget Jones 3 is on the horizon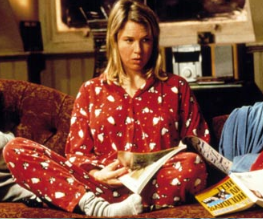 Bridget Jones' Diary was a genuinely great rom-com. Based on the novel by Helen Fielding, the chemistry between the three leads – Renee Zellweger, Colin Firth (Sir Colin, as he must now be called) and Hugh Grant was marvellous, it was witty, funny and heartwarming. The sequel, Bridget Jones: The Edge Of Reason, was unfortunately just silly fluff. So why on earth does anyone think a third film, based on Fielding's subsequent Bridget articles, with Renee Zellweger ALL SKINNY would be a good idea?
According to The Sun (we feel it's our duty to make that clear, as this automatically places this "news" into "rumour" territory) all three leads are happy to climb aboard the Jones train for a third attempt, especially as apparently the plot wouldn't require Zellweger to bulk up to Bridget's usual weight. Great. Another Lundun Guvna rom-com about an abnormally thin chick battling over some posh blokes. Colin Firth has recently told the beeb that he'd be happy to return to the tale, stating "I don't really want to be part of a perpetual franchise but we're all getting so old! I think the idea of Mark and Daniel and Bridget in advanced stages of deterioration could be quite fun. We're making a comedy after all." Now Colin, we know you're an Oscar winner and all, but to us you will always be the bloke who thought the What A Girl Wants script was worth a go.
Would you be up for an under-sized Bridget Jones? Talk to us…
About The Author