Captain America set to clean up Manchester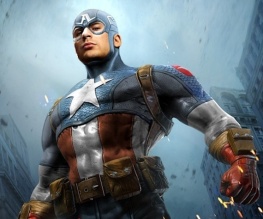 Forthcoming superhero flick Captain America: The First Avenger is going to be partially filmed in Liverpool and Manchester.
In Marvel's first ever shoot outside the US, Manchester's Northern Quarter will become 1940s New York City for a chase sequence in the iconic character's debut big-screen outing, due for release in July of next year. Chris Evans (The Fantastic Four) is set to star as Captain America, with Hugo Weaving appearing as his nemesis The Red Skull.
The Northern Quarter's versatile look has made it a popular haven for film-makers, with Robert Downey Jr. and Jude Law taking to the streets when filming last year's Sherlock Holmes and the BBC using it as the setting for Boy George drama Worried About The Boy. Additional filming in Liverpool's Stanley Dock is still being organised.
Captain America is widely seen as one of a series of prequels – including Iron Man, The Incredible Hulk and next year's Thor – which are paving the way for the hotly-anticipated Joss Whedon super-superhero flick The Avengers. Maybe they'll film that in Sheffield.
About The Author