Carell's Despicable Me eclipses Twilight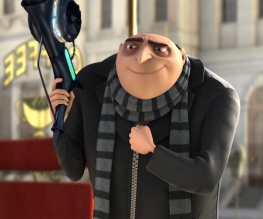 Life imitated art this weekend as Despicable Me rocketed to the top of the US box office charts. The 3D animation, starring the voice of Steve Carell, tells the story of "the world's number two supervillain" and his attempts to usurp the #1 spot, and Despicable Me has done just that as it catapulted teeny-vamp favourite The Twilight Saga: Eclipse from pole position after only one week.
The long-awaited first release from rookie production company Illumination Entertainment has been tipped for success, combining as it does the popular demand for both superhero films and ambitious animated projects.
Featuring Julie Andrews and Russell Brand in supporting roles, Despicable Me tells the story of upwardly-mobile supervillain Gru as he tries to cement his über-bad boy credentials by stealing the Moon – whilst also taking care of some orphans for reasons which have yet to become clear. Having said that, it's a fair bet that one of them will be channelling the lower-lip-biting, achingly cutesy girl from Mrs Doubtfire and at least one of the others will be a tad bit sarky. Job done.
Its $60.1m opening week may look dinky next to Toy Story 3's barn-storming $167.6m or Eclipse's $68.5m opening DAY (these Twihards have more money than sense), but for a stand-alone feature from an unproven studio Despicable Me has done a cracking job. Unfortunately, UK release isn't until mid-October, so we've got plenty of time to speculate as to what on earth those orphans are doing in an evil lair. You could always read a plot summary, but Best For Film thinks they're worse than spoiling your dinner with sweets and will not approve.
About The Author