Carla Bruni gets her baguette in a twist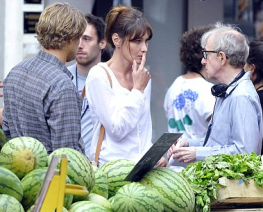 First Lady Carla Bruni has been filming her cameo role in the latest Woody Allen film Midnight in Paris with embarrassing results. The French singer, songwriter and former model admitted that 'I am not an actress at all' but couldn't resist the invitation to work with such an esteemed writer and director.
The romantic-comedy is an exploration of a young man's love for Paris and the misguided illusion that a different life is better than your own. Perhaps the pressure of working amongst talents such as Marion Cotillard, Michael Sheen and Owen Wilson got the better of poor Carla, who made a thorough cock-up of a potentially very simple moment. The scene, in which the French beauty had to walk out of a grocery store clutching a baguette, took 35 takes to get right! An insider from the set claimed that she couldn't stop looking at the camera and tried to make more of the scene than was needed. Less is more darling, less is more.
Old Woody was reportedly very patient with Carla, but wouldn't you be when faced with an entourage of body guards and husband Nicholas Sarkozy breathing down your neck?
About The Author