Casting super update!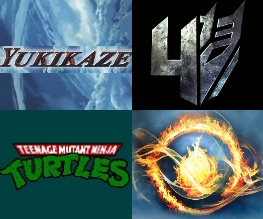 Hollywood seems to be kicking into high gear, sealing the deal on a plethora of big names for next year's line up of sure fire moneymakers.
Apparently Oblivion made quite the impact on Tom Cruise and sci-fi seems to be his new passion. At the moment he is a soldier battling not just aliens but time loops in Doug Liman's All You Need Is Kill before upgrading to time travel and the rank of astronaut in the forthcoming adaptation of T.S. Nowlin's script Our Name Is Adam. And it won't end there, not if the latest buzz sees fit to turn fact. Cruise has now become attached to the Warner Bros. adaptation of Chohel Kamayashi's Japanese sci-fi series, Yukikaze. His prior experience easily sets him up for the appointment as leader of the Special Forces team that is tasked with entering enemy territory to disrupt the hyper-dimensional passageway and kick out the mysterious aliens called JAM. However with no director or screenwriter in the works the project might be quite a way off completion.
It may have been Pain & Gain's day in the limelight but it was Transformers 4 that got all the attention. While on promotion for his latest flick at Paramount's CinemaCon presentation, Micheal Bay announced the addition of Stanley Tucci to a cast that already includes Mark Wahlberg, Nicola Peltz, and Jack Reynor. A hint was dropped regarding another major score but Bay was too excited about using IMAX 3D digital cameras for the action scenes to waste much time elaborating on that. Shooting will begin shortly so as to meet the July 10, 2014, release date.
Still sticking with the Bayster, let's talk Teenage Mutant Ninja Turtles. Despite the fan outrage of turning the Turtles into aliens instead of mutated Earth amphibians, this particular project has been plodding along quite steadily. Megan Fox was the first to mend fences and take on the role of April O'Neil, before Alan Ritchson, Pete Ploszek, Noel Fisher and Jeremy Howard (no, we don't know them either) were listed as Raphael, Leonardo, Michelangelo and Donatello. Will Arnett has been positioned in an as yet unspecified role, leaving only Splinter's spot vacant. This detail has now been remedied with Seinfeld's Danny Woodburn being confirmed for the performance capture section if not for voice duties. Another 3D extravaganza it should make it to theatres by August 15, 2014.
It's pretty obvious that Cillian Murphy and Christopher Nolan are pals. Murphy scored roles in all three of The Dark Knight films plus Inception and if news holds true Nolan's latest production, Transcendence. The cast already sports the illustrious names of Johnny Depp, Rebecca Hall, Kate Mara, Paul Bettany and Morgan Freeman along with being the directorial debut of cinematographer Wally Pfister. So far all that is known about the script penned by Jack Paglen is that it will include the assassination of a scientist and the upload of his brain to a computer.
Last but probably not least is Divergent. Stars have been flocking hard and fast in a bid to become part of this next big thing YA adaptations. Already it boasts Shailene Woodley as the heroine Beatrice Prior, with Ashley Judd as her mother, Natalie, and Kate Winslet as the cold and unlikeable Jeanine Matthews. Now Tony Goldwyn has announced his part in the team that brings Veronica Roth's series to life, opting for the part of father, Andrew Prior. We'll see what Limitless director Neil Burger can do with the script penned by Game of Thrones writer Vanessa Taylor come March 21st, 2014.
And there you go! All you need to know about who's doing what within the next year or so! Use this information wisely!
Are you seeing it? Do you think the casting fits the roles? If not, tell us why!
About The Author