Cate Blanchett and Mia Wasikowska directing things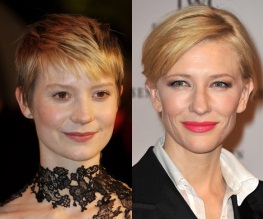 Listen up, fans of lovely Australian ladies who act in things, because upcoming film from the land down under The Turning will be featuring the directorial talents of both Cate Blanchett and tiny tot Mia Wasikowska. Wasikowska has had a good couple of years ever since her breakout role in Tim Burton's Alice In Wonderland, recently appearing opposite Michael Fassbender (who HASN'T appeared opposite that guy? Seriously) in Cary Fukunaga's Jane Eyre. And we all know Cate Blanchett has been bobbing around for years, waiting for her chance to get behind the camera and prove to us all that she could be the new McG.
The Turning is based on the book of the same name by Tim Winton, a collection of short stories all on the theme of "change". Ooh! Vague! The film will be set in Perth and, as Cinema Blend has reported, will cover "the strained relationship of two brothers, the abandonment of a family by their patriarch, and the struggle of a grown man confronting the ghosts of his past". That either sounds boring or interesting, we can't decide which. Wasikowska and Blanchett will each be taking on a vignette, alongside fifteen other directors including David "Faramir" Wenham. In many ways, we are most excited to see Faramir's directorial debut because it was really sad when his dad tried to burn him and we're just so pleased to see him back on his feet.
About The Author