Cate Blanchett to star in JFK thriller Blackbird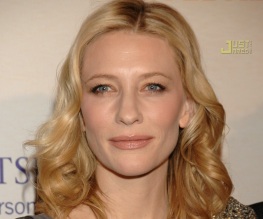 Cate Blanchett, aka everyone's favourite Aussie actress (suck it, Kidman), has signed up to star in a modern-day thriller surrounding the JFK assassination by the name of Blackbird. Behind the project is David Mamet, a man most famous for writing Glengarry Glen Ross and being married to Rebecca Pidgeon who is just awful.
The modern-day Hitchcockian thriller follows Janet (played by Blanchett), a woman who travels to Los Angeles for the funeral of her grandfather – a former Hollywood special effects artist – and discovers some shocking secrets about his past (namely that he used to moonlight for a US special ops agency. God GRANDDAD. So EMBARRASSING). We're guessing this means that the JFK assassination will be revealed as an elaborate set up involving a lot of mirrors and guys in harnesses and the gunman on the grassy knoll actually being a cat dressed up to look like a human and probably in the end JFK will be alive hanging out with Elvis somewhere? It's obviously going to be something along those lines otherwise WHAT'S THE POINT, MAMET? We might as well just watch a DOCUMENTARY.
All jokes aside, we can see this being a good'un. Although rewriting history always comes with its share of controversy (see: Anonymous) the conspiracies surrounding JFK's assassination (debunked here, history fans) have never gone away and, against our better judgement, it's ALWAYS fun to mess with the facts. Maybe next up we'll get the real truth on the moon landing. ANYONE COULD SEE THAT IT WAS JUST A BIG LUMP OF CHEESE IN THAT VIDEO.
Blackbird will be filming in Sydney, while Blanchett is next set to appear in Woody Allen's Blue Jasmine. Are you excited for Mamet's JFK film? Let us know below!
About The Author