Channing Tatum to produce and star in Evel Knievel biopic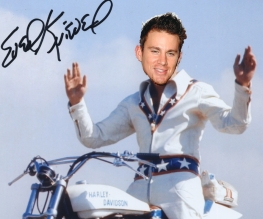 Now that he's exposed everything he's got to offer physically to audiences, Channing Tatum is continuing his reign of sweet terror over our box offices – take that however you like – by producing and starring in a new biopic of stunt cyclist Evel Knievel, backed by Columbia Pictures.
Knievel is the Guinness World Record holder for 'most broken bones survived', at a mammoth 433 – there's only 206 in the human body, if you wanted to know. He broke countless other stunt records throughout his career, as well as putting himself through at least three stunt-cyclists' fills of sex, drugs and rock 'n' roll. He died in 2007, aged 69, from diabetes and pulmonary fibrosis; how they're planning to replicate all this agony is beyond us, because no one, especially Channing, wants to see him in pain; mostly because his version of it is utterly hilarious, which probably isn't the intention.
Whilst the project doesn't yet have a director attached, Tatum has managed to nab the producers of The Social Network, who have also just "won" the race to produce the film adaptation of Fifty Shades of Grey. Tatum's portrayal (the second on film, after 1971's performance in Evel Knievel by George Hamilton) will also be based on the 2008 biography Life of Evel, by Stuart Barker.
About The Author