Charlie Sheen to become President of the United States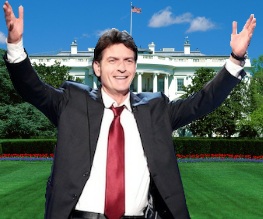 The world has largely forgotten about Charlie Sheen going totally mental last year, and we're guessing that the world's premier rockstar Vatican assassin has been fairly desperate to find a way to maintain his public profile (a way, that is, other than Charlie Sheen's Winning Recipes – more details at the end of this article). And what could be a more sure-fire way to self-promote than by becoming President?
(In grindhouse sequel Machete Kills, that is.)
Robert Rodriguez took to Twitter yesterday to confirm that he's cast the erratic actor, Tweeter and cocaine fan as POTUS in the follow-up to 2010 hit Machete, which starred Danny Trejo as a former Federale with a taste for massive knives.
We can't even get our heads around this, so while we try to think of something to type why not check out our Charlie Sheen drinking game – it's a Friday, after all. Oh, and here's the cookery show we promised you:
See you on Cassiopeia!
About The Author