Charlie Sheen's mind cracked open in trailer for Charles Swan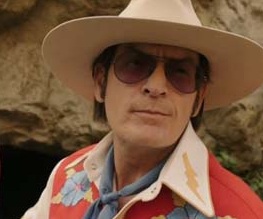 Charlie Sheen's upcoming role as Charles Swan III certainly looks like a case of art imitating life. Playing a troubled playboy on the brink of meltdown, preparation for the role can't have been too difficult. In the first trailer for Roman Coppola's first film behind the camera in a decade, we finally get that promised glimpse inside Swan's mind. It strongly resembles Wes Anderson's, if we're being facetious.
A Glimpse Inside the Mind of Charles Swan III looks nothing if not effortful, the trailer diving head first into some colourful exercises in western and gangster pastiche. Bill Murray dressed up as John Wayne in The Searchers is particularly appealing, and the droll humour that infuses much of the Anderson/Coppola spectrum looks to be working overtime, especially when Murray artfully removes an arrow lodged in Charlie Sheen's heart (also particularly appealing).
Jason Schwartzman sits around in some tennis gear in a blurring of some classic Wes Anderson tropes (namely the presence of Jason Schwartzman and tennis), Bill Murray looks to be some kind of elder spirit guide (natch) and Charlie Sheen generally seems bewildered during the trip into the recesses of Mr. Swan's mind. "So there's hope for me?", Charlie Sheen asks in a moment not unexpected given Charles Swan's biographical tilt and the reference-heavy nature of the trailer. Noting the absence of any bloodshot eyes, seven gram rocks or deviated septums, we'd say yes, there is.
What is your favourite episode of Two and a Half Men? Comments Below.
About The Author