Chloë Moretz and Asa Butterfield head to The White Circus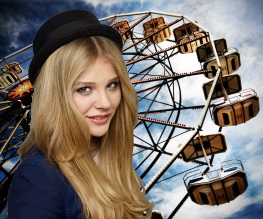 Things we love here at Best For Film include circuses, Chloë Moretz and Serbia, so we're pretty chuffed that they are all coming together in Terry Gilliam-produced "dark fairytale" The White Circus.
The first full-length, live-action film from writing-directing team Chris Lavis and Maciek Szczerbowski (known collectively as Clyde Henry Productions), The White Circus reportedly features a stranded pilot, a cabaret singer and a talking bear, battling an evil despot on a snowy New Year's Eve. Clyde Henry's previous output includes Oscar-nominated short Madame Tutli Putli, and a Maurice Sendak adaptation (Higgelty Piggelty Pop!); it sounds like Terry Gilliam should feel right at home, particularly since Lavis and Szczerbowski have been dubbed his "worthy heirs" by producer Gregoire Melin.
Chloë Moretz will reunite with her Hugo comrade Asa Butterfield for the production, working with perpetual rising star Andrea Riseborough (last seen in Oblivion) and Christian "my Wikipedia is literally only in German" Friedel.
Filming is due to start in Serbia (hooray Serbia!) and Germany (there's where you fit in, Friedel) in February 2014. As well as Gilliam, The White Circus will be produced by Melissa Malkin and Dave Valleau of Canada's Silo Corp., Stefan Arndt at Germany's X-Filme Creative Pool and Andjelija Vlaisavljevic at Serbia's Work in Progress.
Fairytales, Terry Gilliam and a Last Go At Scrabble bag-drag of surnames – who could ask for more? If you need us, we'll be over here, tacking extra letters onto our names and counting down days until we can run away to the circus.
About The Author