Chloe Moretz joins Tim Burton's Dark Shadows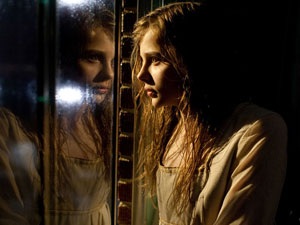 While the common populace has long been divided into two factions – those who love the Burton-burlesque and those who loathe his kitschy goth-schtick – it appears that both Hollywood mega-stars and those on the sparkly rise adore the inexplicably coiffed director.
Chloe Moretz (Let Me In, Kick-Ass) has just joined Burton-staples Johnny Depp and Helena Bonham Carter, along with other screen-heavyweights Michelle Pfeiffer, Jackie Earle Haley (Watchmen, Nightmare on Elm Street reboot) and Eva Green (Casino Royale, Cracks) to star in the Warner Bros drama Dark Shadows, the Burton-directed movie based on the eponymous 60s TV soap. The original series followed the life of vampire Barnabas Collins – who will be played by Depp – and his run-ins with various monsters, ghosts, and supernatural creatures. Moretz will be playing Carolyn, the daughter of Elizabeth Collins Stoddard (Pfeiffer), the reclusive matriarch of the Collins clan and owner of the Collinwood mansion where the spooksville drama unfolds.
Now that Moretz has officially joined the Burton-band, she's more than likely assured of a life-time career working for Tim, in a unending yarn of gloomy remakes – which may be excellent or dire news for us mere mortals, depending on which side of the Burton-divide you stand.
About The Author