Chloë Moretz looks suitably scary in new Carrie poster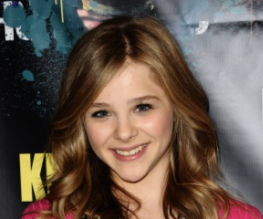 Chloë Moretz is by all accounts a delightful young lady, but she appears to have something of a penchant for playing bloody terrifying characters. Over the span of her short career, she's portrayed a highly skilled assassin in Kick-Ass, a vampire who had an unfortunate habit of showing her displeasure by quite literally ripping people's heads off in Let Me In, a decidedly creepy teenager in Dark Shadows and now she will star as the titular character in Stop-Loss director Kimberley Pierce's remake of Brian De Palma's Carrie.
Whilst fan-made posters have been floating around online for the last few months, this is the first official poster released for the upcoming remake, slated for release early next year. Chloë Moretz can be seen in full-closeup, sporting a face streaked with blood presumably of porcine origin. For those unfamiliar with the 1976 version or the Stephen King book upon which both films are based, Chloë Moretz will portray a bullied outsider whose telekinetic powers lie dormant until a traumatic incident involving a hot guy, a school prom and a bucketful of pig's blood, results in a gory show-down. Have a look a the poster below, click to enlarge.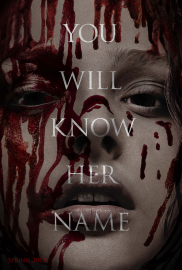 Whilst the poster's chilling image and tagline effectively recall the blood and horror of the first Carrie, critics have voiced concern that Kimberley Pierce is relying too much on the first Carrie's cult appeal and hasn't taken the appropriate steps to mold the 2013 Carrie as her own. Eagle-eyed film buffs may also remember that the fan-made posters of previous months boasted an extremely similar aesthetic and tag-line. Somewhere out there is a seriously pissed amateur designer. We're cautiously optimistic that the remake will do well, but we can't help wondering if and when Chloë Moretz will ever play a role that doesn't require quite so much emotional trauma. With all the blood and tears and death that appear to be a prerequisite for any film involving the young actress, at this point it would be quite refreshing just to see her wearing a nice cardigan and a smile.
About The Author