Chris Pratt leader of the Guardians of the Galaxy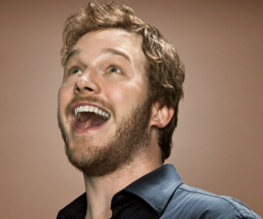 Chris Pratt, fresh from his excrement-filled turn in the wonderful essay on modern times Movie 43, has taken the next logical step for his career after being cast to to lead the Marvel Phase Two adaptation Guardians of the Galaxy. The Parks and Recreation star has mixed the high and the low this year having recently bulked up for his role in Zero Dark Thirty, suggesting that Pratt is attempting to court favour from as wide a movie-going constituency as possible – a seemingly sound, but distinctly risky strategy. Mind you, it's working out well for Eddie Redmayne . Everyone's trying to be Liam Neeson these days.
Pratt will play Star Lord, 'the half-human half alien leader of a bio-engineered team of space-traveling heroes that includes a green-skinned warrior, a gun slinging raccoon, a female alien assassin, and a fearsome tree-being,' reports Entertainment Weekly. Sounds like Marvel are veering away from the super-realism market at last then. Hold on a minute. A gun slinging raccoon? Oh right, a gun slinging raccoon. No, a fearsome tree-being? Please, we read Lord of the Rings at school and those ents were adorable, not fearsome at all.
From the sounds of things, actually, perhaps Pratt is going down the Movie 43 route. James Gunn, director of 2006's cult comedy-horror Slither, is signed up to direct. Could Marvel be preparing audiences for some super-hero inter-galactic knowing laugh fest? The material, and the raccoon, certainly seem to be there. We shall just have to wait and see what tone the producers decide to take. From the sounds of things, the choices are pretty limited.
Do you prefer Pratt fat or flat? Would you let him guard your galaxy? LET US KNOW.
About The Author