Christian Bale may play Moses!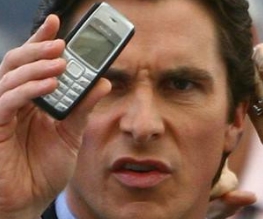 Christian Bale (aka Batman) could be playing another leader, lawgiver and prophet: Moses! Ridley Scott has Bale in mind for Exodus, his retelling of the story of the biblical hero (Moses, not Bale). 20th Century Fox is moving full pace ahead with the film after Steven Spielberg pulled out of Warner Bros' rival version of the Moses story, Gods and Kings, with director Ang Lee set to replace him. Bale is no stranger to almost playing biblical characters as he was once lined up for Darren Aronofsky's Noah, before the pesky Russell Crowe snatched up the role. Unfortunately, nothing is 100% set in stone yet though, as Bale may be reprising his role as Batman in the upcoming Justice League film.
For Exodus Ridley Scott will be re-collaborating with American Gangster screenwriter Steve Zaillian, who is doing a re-write of the script. Exodus will be Scott's next film after he completes his forthcoming Cormac McCarthy thriller The Counselor which will star Michael Fassbender. Exodus will be said to focus on the small details of the life of Moses, such as the leader's relationship with Pharaoh Rameses II. Spielberg's rival biopic was (in classic Spielberg style) said to be more of an epic biopic – a kind of Braveheart / Saving Private Ryan affair. If the history of films about Moses are anything to go by (think back to The Ten Commandments with Charlon Heston) the movie will need a huge budget so it's likely that both Scott's and Lee's films will go ahead. This has happened before when the backers of Baz Luhrmann's Alexander biopic pulled out after Oliver Stone's 2004 film Alexander was released.  Let the race begin!
About The Author