Christian Slater joins von Trier's Nymphomaniac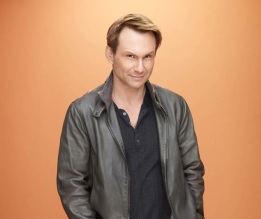 Christian Slater has been cast in controversial director Lars Von Trier's upcoming "pornographic drama" Nymphomaniac. Now, before you legions of Slater fans (you're still out there, right?) get all hot under the collar, he's not playing the titular sex addict.
That role goes to Charlotte Gainsbourg, who will play the sex-obsessed Joe. The plot will see her recounting her erotic adventures from birth to middle-age to kindly stranger Stellan Skarsgård, with British model Stacey Martin likely to have all the fun playing younger Joe in flashbacks. Christian Slater will be playing her – presumably quite concerned – father, with Shia LaBeouf also featuring.
Von Trier has stated that he's planning to shoot two versions of the film, with the first one a "hardcore pornographic cut", and the second utilizing more discreet camera angles and some modesty-preserving blurring, so that somewhere might actually show it.
Given the current wave of smut led by the Fifty Shades of Grey phenomenon, Nymphomaniac couldn't be better timed, although quite whether the house-wives of the world are prepared for what LaBeouf revealed to be an all-too-real production – where every bit of hanky-panky that occurs on screen, happens for real between the actors (within the realms of legality) – remains to be seen.
"Von Trier's dangerous. He scares me.", says LaBeouf.
Nymphomaniac will likely be putting the willies into the rest of us some time in 2013.
About The Author