Christopher Nolan honoured by Grauman's Chinese Theatre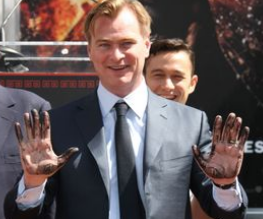 It was a momentous occasion for Brit director, Christopher Nolan on Saturday as he was honoured by the famous Grauman's Chinese Theatre with the 211th hand and foot imprint. Whilst the Hollywood Walk of Fame has over 2,400 tributes, the Grauman's Theatre spots are reserved for those who have contributed greatly to the film industry and deserve special commemoration. Although how Alvin and The Chipmunks managed to get a spot in 2011 is beyond us.
The honour comes ahead of the release of Nolan's eighth feature film The Dark Knight Rises which comes out in the UK on the 20th July. Nolan began making films at the age of eight with his dad's Super 8 camera and made a series of shorts before the release of his first feature Following in 1998. Nolan then went on to write and direct Memento starring Guy Pearce before teaming up with fellow Brit Christian Bale for the revival of the Batman franchise.
The famously private Nolan (who apparently owns neither a mobile phone or an email account) has announced that this will be the last outing for the Caped Crusader, under his direction at least, and it will be exciting to see what he will direct next. So far there have been no projects announced but we are sure that there is something big lined up in the pipework… http://credit-n.ru/about.html http://credit-n.ru/zaymyi-v-ukraine.html
About The Author