Cinderella film to star Cate Blanchett as massive bitch?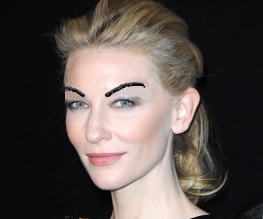 Cinderella – Disney cartoon with singing mice/old fairy tale where the step sisters cut off their toes to fit into the glass slipper (fashion!) – is officially getting a remake! Lol jk, this isn't news. We reported on this over two years ago. But what IS news is that it looks like Cate Blanchett will be joining the production as Cinderella's main antagonist, Lady Tremaine. The live action Cinderella, scripted by About A Boy's Chris Weitz, has been in the works for a while. Originally penned by the scriptwriter behind The Devil Wears Prada, Aline Brosh McKenna, and later rewritten by Weitz, it seems as though this whole business is taking a while to get off the ground. Word on the street is that Mark "Never Let Me Go" Romanek is set to direct, but with nothing set in stone we can't help but wonder if this Cinderella reimagining will ever get made.
Certainly, now's the time for a new Cinderella. Fairy tale retellings are all the rage these days, what with the likes of Mirror Mirror and Snow White and the Huntsman and, of course, the upcoming Vivienne Jolie-Pitt vehicle Maleficent. What's more, Cinderella is one of those stories that has everything: rags to riches, pretty dresses, handsome princes, nice shoes, evil biatches, pumpkins. The people want more pumpkins! And you just know Cate Blanchett would kick butt as Cinderella's evil stepmother Lady Tremaine. All you'd have to do is draw on some evil eyebrows (see above), put her in a dark green dress and give her man issues. Because it's always about man issues with these chicks.
So what do you think? Is this new Cinderella film ever going to happen? Do you want a new Cinderella film to happen? Let us know below!
About The Author