Cleopatra recruits Roth and Fincher?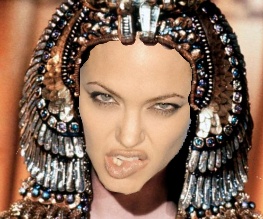 When Jolie decided that she would, someday, be Cleopatra, we had no doubts that she would find a way to make it happen. And, sure enough, her arsenal is growing in size…
First up, it's been rumoured that Eric Roth, screenwriter of the upcoming Extremely Loud and Incredibly Close (remember, that one with the trailer that made us all weep? Even those of us WITHOUT human souls?) has been approached to the pen the screenplay. It makes some sense. Jolie has connections to Fincher, after he directed hubby Brad Pitt in The Curious Case Of Benjamin Button, so this idea seems plausible.
Second up, we have David Fincher as a possible director. Remember him? He worked on such marvels as The Social Network and (ahem) The Curious Case Of Benjamin Button. Maybe working on a film where people age backwards is the only way to prep yourself for a sweeping historical epic. History happened in the past. You have to go back in time in your mind to understand what happ… we're clutching at straws here.
Either way, if this plan finally starts roaming about like a reanimated Egyptian mummy, we'll be granted the chance to see Jolie in a version of Cleopatra which shows us the story from a woman's perspective. We're guessing this means we see more military deviancy and less sexy sexy seduction, a la Elizabeth Taylor.
An amazing writer. An amazing director. And Angelina Jolie. How do you feel this film will fare if it ever makes it to the cinemas?
About The Author