Clint's feeling lucky with 'A Star Is Born'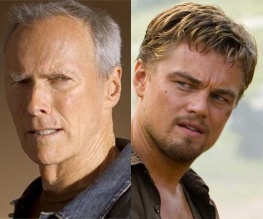 The legendary macho movie star Mr Clint Eastwood is donning his director's cap once again to take on a remake of the classic, A Star Is Born. First made ϋber famous by musical maestro Judy Garland and James Mason (1954), and then again by power ballad beauty Barbra Steisand and Kris Kristofferson (1976), Eastwood is hoping to re-ignite the tale with some brand new shining faces.
The leading lady set to play the role of the poor and helpless struggling singer is none other than the bootylicious queen of the divas, Beyoncé Knowles. The role of Beyoncé's older boozy lover, whose career rapidly declines, is a little less clear with many names being dropped into the mix such as Russell Crowe and Will Smith. However it appears that Eastwood is gunning for his leading man to be the formidable Leonardo DiCaprio (pause while at least 50% of the female population swoon).
The story is essentially this. A struggling female singer meets a famous man. Singer and man fall in love. Singer then becomes more famous than man. Man takes it badly.
A typical everyday story I'm sure, but with Eastwood at the helm and DiCaprio and Knowles on the rigging, this ship is surely set to sail far.
About The Author