Closer look at Hugh Jackman's Jean Valjean beard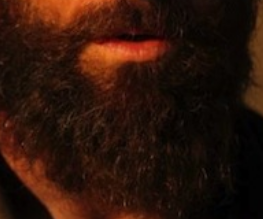 A week ago we enthusiastically and unashamedly posted a picture of Hugh Jackman's face and torso, with little to no regard as to how news-worthy it actually was. What's more important than a picture of Hugh Jackman's face and torso? JUST HIS FACE. JUST HIS FACE FOR ALL FOR US.
It's funny, isn't it, if it's The Avengers we get snotty, but the second you toss some bellowing French revolutionaries into the mix we go all fan-boy. That's quality journalism for you.
Anyway, it's Jean Valjean! He stole a loaf of bread!
Jackman is, of course, playing the protagonist in Tom Hooper's Les Miserables, opposite such bearded greats as Russell Crowe, Sacha Baron Cohen and… erm… Eddie Redmayne. Will we be as excited to see pictures of their bits of hair? Probably. The film won't be out until Jan of next year, so stay tuned, follicle fans.
About The Author