Cloudy with a Chance of Meatballs sequel gets first image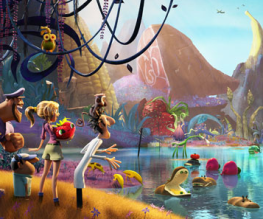 The sequel to the food paradise that rained down on us in Cloudy with a Chance of Meatballs gets its first new image – and it looks as if we've arrived on the set of Avatar, on hallucinogenics, marvelling at fruit-fish melon-elephant things. These creatures are actually called 'food-imals', obviously. Also, is that a giant slab of meat pretending to be a hill in the background? God, we love this film already. Good news: Cloudy 2: Revenge of the Leftovers looks like it'll be just as colourful, delicious and comical as the its predecessor. Bad news: it's called Cloudy 2: Revenge of the Leftovers.
Are you ready to have your day made? Good. Feast your eyes on this: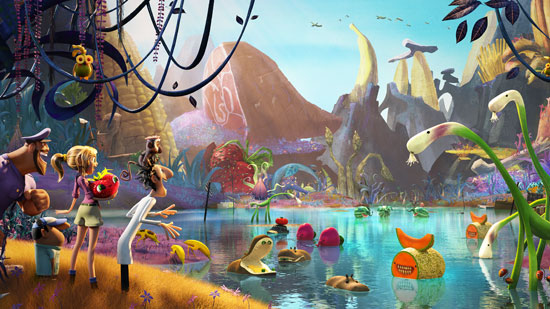 Does anyone else think the spring onion giraffes are quite cute? We've also just noticed that there seems to be a tomato perched on top of a sinking car, looking somewhat out of place. But hey ho, we'll focus instead on the corn-on-the-cob trees and the owl made of fruit in the tree. N'awwwww.
Cloudy 2: Revenge of the Leftovers will carry on with the story from the original film, picking up when inventor Flint Lockwood (Bill Hador) partners up with his hero Chester V (Will Forte) at the Live Corp Company for the world's best scientific brains. Naturally, things go awry for poor Flint when he realises that his famous machine (for turning water into food JEEZ KEEP UP) is suddenly creating food-animal hybrids; the food-imals. Chaos ensues.
The fate of man rests on Flint's shoulders once again, with the attack of shrimpanzees, tacodiles and (BRACE YOURSELVES) double bacon cheespiders. Genuinely sounds terrifying. Cloudy 2 is directed by Kris Pearn and Cody Cameron with the voices of Anna Faris and Andy Samberg. The film will arrive in UK cinemas on 25 October this year.
Are you hungry? Do bacon cheese spiders appeal to you? Should probably sit and have a think about things if they do. Tell us about your favourite food-imal below!
About The Author