Coen brothers' new folk-music film gets first trailer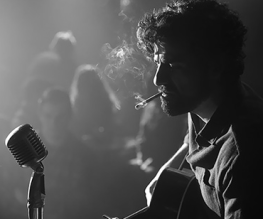 Over a year ago we were told that Justin Timberlake had scored a role in an upcoming Coen brothers' film alongside Carey Mulligan. We were shocked, bemused and intrigued; this new Coen project sounded rather brilliant, had we judged poor Trousersnake too soon?
And so now, a year later, we finally get more than just casting news for the Coens' upcoming folk-music drama, Inside Llewyn Davis. We may be late on the bandwagon (the trailer was released over 2 weeks ago, but are you really that nit-picky?), but we finally have the first full trailer for you, along with some brand new information which reports that the Coen brothers have just sold North American distribution rights for the film to CBS Films – which means that CBS are likely to roll out the film later in the year in preparation for potential awards craze.
Check out the trailer below:
The film stars Oscar Isaac as a Bob Dylan-esque aspiring folk singer and songwriter "navigating" his way through New York's 1960s folk music scene. Isaac has previously worked with Mulligan in the brilliant Drive, and the actor has also appeared in the absurd Sucker Punch. Mulligan will be playing Timberlake's wife, Jean, who sports luscious black locks and looks unlike the short pixie bob-ed Carey Mulligan we're so used to. The film also stars John Goodman, who every sensible human adores. And Justin Timberlake will be adding to the soundtrack, just FYI.
The Coen brothers haven't given us anything since 2010's True Grit, so we're severely holding out for a winner. We think Inside Llewyn Davis looks promising, even if the plot does seem a bit meandering. Still, who doesn't love a bit of wandering narrative every now and then?
Excited for a new Coen brothers venture? Think Inside Llewyn Davis looks fantabulous? Let us know!
About The Author