Colin Firth Oscar tipped for The King's Speech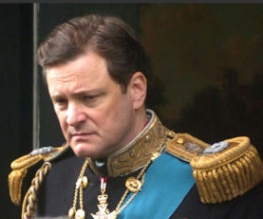 The Toronto Film Festival is always a pretty good port of call for fishing out early Oscar tips, and it seems that the buzz this year is all centred on one film – British period drama The King's Speech, starring Colin Firth.
The King's Speech outlines the true story of King George VI (Firth), and his struggle to overcome a crippling stammer after he ascends the throne. It follows the relationship between the proud king and Lionel Logue – a speech therapist determined to get to the source of the monarch's impediment.
Critics applauded after the first press screening – a rarity in the Toronto festival scene – and judging by the storming response to Firth performance it seems almost inevitable that he'll get his second Oscar nomination in two years. Last year he lost out to Jeff Bridges – could this be his year? The King's Speech isn't out over here until the 26th November so we've got a while before we can judge for ourselves, but we bloody love a bit of Firth action. Can't wait to see what all the fuss is about.
About The Author