Condorman CBE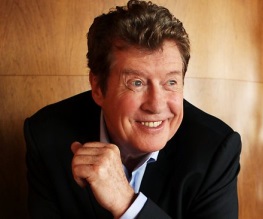 A number of our favourite actors and performers have been recognised in the 2014 New Year's Honours list (which, for the benefit of our American readers, is the sort of thing you eventually end up with if you have a history). Best For Film is thoroughly uninterested in the procession of Tory donors, gurning sportspeople and so on who've picked up a gong, but there are a few people we actually care about. Here they are.
Dame Angela Lansbury
With three Oscar nominations (two of them for her first and third films, back in the mid-forties), eighteen Emmy nominations, a Golden Globe and a CBE that's finally been surpassed after twenty years in her trophy cabinet, Dame Angela joins Judi Dench and Maggie Smith as a titled matriarch of the British acting fraternity. Her experience on the small screen, in Hollywood and on stage is unsurpassed, but we still like Bedknobs and Broomsticks best.
Nicholas Parsons CBE
We were horrified by the implication that Nicholas Parsons had thus far cruised through life without letters after his name, but happily his CBE is an upgrade from the OBE he received ten years ago. Aged ninety and still working on Radio 4, appearing in Edinburgh and generally gadding about, the legendary host of Just a Minute will almost certainly outlive us all. Good for him.
Ruth Jones MBE
Although Ruth Jones is best known for her television work (particularly Gavin and Stacey, which we never really got into but lots of people seemed to like), she's also had a few flirtations with the silver screen. We're choosing to assume that she was chosen for elevation purely on the basis of her spectacular performance in East is East, in which she played Stella's mate, "fat-arse" Peggy. Whenever we're sad, we think of the line "Stella, we're in 'at paradise…" and giggle.
Sandi Toksvig OBE
We saw her in Waitrose once, AND she was on QI that time we got tickets, and she's the best thing about Denmark (piss off, The Killing) and we love her.
But, most of all…
Michael Crawford CBE
See, you're getting this wrong. You're thinking of the plank from Some Mothers Do 'Ave 'Em, and wondering why on earth Best For Film gives a toss about a 1970s sitcom (after all, we've missed Dame Penelope Keith off this list, and she's got two BAFTAs). But that's not the important thing about Michael Crawford. This is.
Our love for Condorman is a matter of public record, and now Oliver Reed's dead we can't think of a better way to honour its unique Hollywood legacy than to give the star of the show a shiny prize. If you haven't seen Condorman, make it a New Year's Eve treat to yourself.
Well done to all the people whose names we don't know, too, obviously. Running community projects is arguably more important than being in Murder, She Wrote, but it's much less interesting to write about.
About The Author