Condorman to swoop out of the 80s and back into cinemas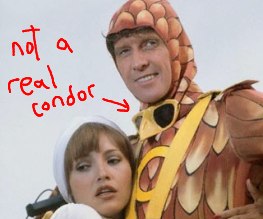 Condorman. Ring any bells? Of course it doesn't, because unless you were a serious Disney fan in the very early eighties then you've probably never had an opportunity to see the House of Mouse's worst superhero in action. Condorman is a 1981 film starring the then-popular Michael Crawford (Some Mothers Do 'Ave 'Em, Phantom of the Opera) as hapless cartoonist-turned-spy Woody Wilkins, and it's been one of my favourite films since it was inexplicably screened on TV in around 1996. And now it's being rebooted.
A Disney insider has told Moviehole that the new owners of Marvel are seriously considering remaking Condorman, which sees Wilkins co-opted by the CIA to help pull off the defection of a key (and hot, obv) KGB agent from under the nose of fiendish Russian OLIVER REED OH MY GOD. The price of Wilkins' assistance is a full set of gadgets as used by his comic book creation Condorman, including a gypsy caravan which turns into a racing car (which then turns into a hovercraft) and an incredibly bulky wingsuit which he insists on wearing with a feathered helmet. Here's what the Disney mole has to say:
"Robert Pattinson's name has been floated, can you see him going for it? He seems to be into more intellectual things?. Still a pompous cartoonist turned superhero type gets to assist in the deflection [sic] of a sexy young KGB agent. Emphasis would be more on action this time around though. They want to steer as far off from Johnny English territory as possible…"
After the obligatory origin movie is completed, there's even talk of incorporating Condorman into the Marvel cinematic universe. We're not sure we can see Thor and the Hulk hanging out with a slapstick superhero, but they made us like Scarlett Johansson in Avengers Assemble so anything's possible. We're not sure how the Falcon is going to feel about it, though…
We'll have more on this as we get it. For now, though, you can buy Condorman for next to nothing in the Best For Film Shop! We'll look forward to discussing the finer points of the Vulture of the Western World with you on Twitter…
Have you seen Condorman? Would you welcome a remake? Let us know below!
About The Author