Could The Rock be considering a superhero movie?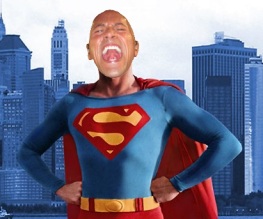 God, we love The Rock. When he isn't battering centaurs, completing labours or killing Mexicans, the wrestler turned action hero may be considering a move into the most profitable business of all – superhero films – with a visit to the DC comic universe.
Look what dear Dwayne, who recently celebrated his fortieth birthday, said to a fan on Twitter:
Right, first things first: there are two Gravediggers, and one of them will definitely not make it onto the silver screen any time soon. Ulysses Hazard, codenamed Gravedigger, is a black soldier from 70s series Men of War who memorably (or not) invaded the Pentagon to demonstrate his prowess to a military establishment which had previously relegated him to burying bodies. He isn't a superhero, and we therefore don't care. The second Gravedigger, who's been popping up for about four years, is a slightly more realistic prospect – Tyson Sykes, a member of Checkmate (roughly speaking, the DC equivalent of S.H.I.E.L.D.) is a telepath who has been injected with the DNA of a giant alien starfish. Think The Rock could pull that one off?
Rather more likely, in our opinion, is @krystal_burt's second suggestion. John Stewart is both a member of the Justice League (a movie is tentatively due out next year) and a Green Lantern – he shares responsibility for Earth with fellow Corps member Hal Jordan, who was played by Ryan Reynolds in the recent film. Could Dwayne Johnson be hinting at the composition of either the Justice League film or of Green Lantern 2?
What do you make of The Rock's coquettish little hint? Let us know below!
About The Author