Crouching Tiger sequel to begin production in the spring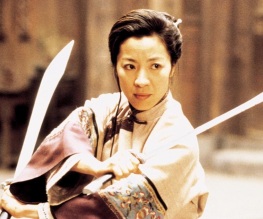 More than twelve years after wowing critics and audiences with its beautiful martial-arts aesthetics, bagging four Oscars, and grossing more than $200 million world-wide, Crouching Tiger, Hidden Dragon is set for a sequel. Original director Ang Lee is not involved, but The Weinstein Company is moving ahead anyway, with filming set to commence come May in Asia. The studio is reportedly discussing the project with Ronny Yu, veteran Hong Kong director of Freddy vs. Jason and Jet Li's Fearless, which will have a budget of about $20 million.
The as-yet unnamed film will be based on Silver Base, Iron Knight, the fifth installment of Chinese author Wang Du Lu's Crane Iron series, of which Crouching Tiger was adapted from the fourth book. The sequel will centre on female warrior Yu Shu Lien (played by Michelle Yeoh in the first film), but there is no news yet about returning cast members. It is understood that the production company are waiting on Yeoh to sign up again before going ahead with more casting.
The Weinsteins were reported to have out-bid original Crouching Tiger distributor Sony for the rights to the book series adaptations a few years ago, following the Du Lu family's resentment over being cut out of a share of the original movie's huge profits. Expect more of the epic fantasy fight scenes and more gorgeous poetic lushness that characterised the first film. We shall remain crouched and hidden away until more news is available, when we shall spring and fly to our computers to inform you.
Was it about time Crouching Tiger got a sequel, following the slew we've had of them this past decade? Or would you prefer something original for a change? LET US KNOW.
About The Author