Cult disaster Birdemic gets sequel, director claims to have mastered 3D cinematography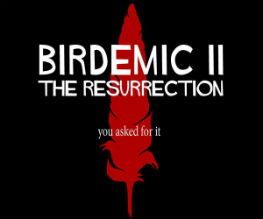 In 2010, maverick director James Nguyen went Full Wiseau when his apocalyptic zero-budget bird-horror flick, Birdemic: Shock and Terror, was so ostentatiously terrible that it received global recognition. However, instead of following Tommy Wiseau's lead and endlessly touring the world with his magnum opus, Nguyen is wasting no time and has already finished shooting the sequel. It looks bigger, sexier.. birdier. It's also terrible in exactly the same way as the original. Here's the hilariously long trailer.
So the acting is still terrible (most of the cast have returned), the script is wicked bad and he's still using exactly the same effect for the birds, which is just awesome in its ineptitude. But now, for reasons we're not expecting to be explained at all, we have zombies too! Oh, and the whole thing is somehow in 3D.
In a recent interview with the Wall Street Journal, Nguyen – whose IMDB describes him as "Master of Romantic Thrillers Among the new generation of auteurs in the 21st Century" said (buckle in, this is amazing) "We're shooting in real 3-D with actual 3-D equipment, and I've completely mastered the art of 3-D cinematography. But beyond the 3-D cinematography, "Birdemic 2: The Resurrection 3-D" has a great storyline. I have a small office at the corner of Sunset and La Brea, and they call that corner Billy Wilder square in honor of the great director Billy Wilder. And the Spanish word La Brea means "the tar," that black, sticky oil in the La Brea Tar Pits, so that's the hint to the whole sequel – the tar. So it's got a good, compelling story, that really motivates and compels me to make it. I don't make a movie unless I get moved by it, and "Birdemic 2" is for me because it's got a good, compelling story, and I think it's going to be a big hit. The storyline's as good or better than the original, and it's going to be a bigger hit than the original."
Says it all, really.
About The Author