Daniel Craig's demands hold up Dragon Tattoo sequel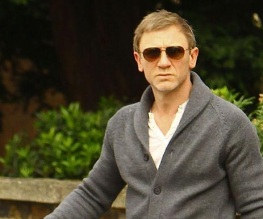 Fans of Stieg Larsson's best-selling Millennium series of thrillers will be intrigued to learn about what is holding up the next Hollywood adaptation, The Girl Who Played With Fire. Following disappointing global grosses for the US studio version of the first book The Girl with the Dragon Tattoo ($233 million on a $90 million budget), execs at Sony are looking to cut costs. This is proving to be a tricky maneuver with Daniel Craig, fresh from the $1 billion success of Skyfall. He and/or his people are reportedly demanding more cash for his services, not less. Something, it seems, has gotta give.
The forward momentum of the project essentially being stalled by Daniel Craig's new-found diva status has now led the tired execs to consider writing out Craig's character, investigative journalist Mikael Blomkvist, altogether. This would not be too difficult to do considering the focus of the next two books is mainly on the punk hacker Lisbeth Salander, played by Oscar nominee Rooney Mara, who is already on board for the sequel. However, another difficulty presents itself in this scenario in the form of expensive scribe Academy Award winning Steven Zaillian, who has already written the script.
On top of all these woes, original director David Fincher is a busy boy at the minute, working on another adaptation of a thriller by Gillian Flyn, Gone Girl and Disney's 20,000 Leagues Under the Sea. You may also have noticed if you use public transport (where the posters have been all week) that all thirteen episodes of his Netflix series House of Cards starring Kevin Spacey will be coming out today. So writer, star, and director are in doubt at the moment. Perhaps Hollywood should stop trying to untwist its knickers and just allow the Swedes to get on with adapting their own stuff. They've done a better job at pretty much everything thus far anyway (apart from comedy), haven't they?
Any Stieg Larsson fans out there care to comment on the potential consequences of Daniel Craig's journo being excised from the sequel? And does anyone know of any good Swedish comedy? LET US KNOW
About The Author