Dark Knight Rises viral campaign continues with Gotham newspaper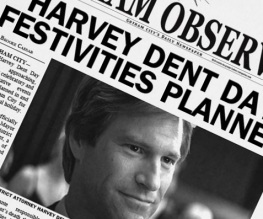 It's a while since we've seen any interesting viral content for forthcoming Batman threequel The Dark Knight Rises, but with just over a month to go Chris Nolan's web wizards have produced some more deceptively simple photos for us to pore over. This time we've been given three pages from the Gotham Observer (attractively priced at $1) – and we've found out some rather exciting things.
Take a look:
It's far too hot for us all to be thinking, so here's what we've found out:
– A "memorial Gotham Rogues inter-team scrimmage" is planned for this year's Harvey Dent Day. We're guessing that's when Bane is going to blow up the pitch, the little monkey.
– A series of daring jewel thefts have blighted rich homes across Gotham. Oh Catwoman, you are a cheeky devil.
– Mountain Dew must have paid a lot of money for all that branding.
– A clue to the plot seems to be contained in the mysterious advert for personal security company Rykin Data. Its website contains nothing but this patent application:
We're flummoxed. If you have any idea who A. Heiberger is or how the anonymity algorithm described could be employed (to clear Bane's name? Wipe the records of the Gotham PD? Could it be retrofitted to give Bane a clue as to Batman's real identity?) then please give us a hint!
Oh, and there's one more thing. The horoscope for Pisces (Feb. 19th – Mar. 20th) reads "Although things seem hard, it's your job to rise up and face them." Guess when Bruce Wayne birthday is? It's February 19th.
Nice.
The Dark Knight Rises is out on July 20th.
About The Author