Dave Grohl's Sound City gets first trailer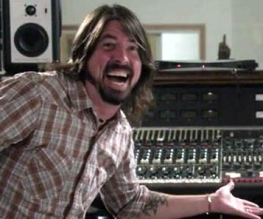 Dave Grohl, drummer for Nirvana, guitarist/singer/songwriter for Foo Fighters, all-round superstar and famed HIV denialist, has entered the world of cinema with his directorial debut, Sound City. A documentary about the historically-important recording studio in California, Dave Grohl has managed to snag some big names in the music world to tell the tale of Sound City, and it's looking good.
Trent Reznor, Tom Petty and Mick Fleetwood all feature alongside Dave Grohl, in what appears to be an homage to the analogue age. The Sound City studio is something like what Abbey Road meant to the British music movement in the 50s and 60s, and has been home to the recording sessions of Neil Young, Fleetwood Mac, Tom Petty, Cheap Trick, Guns and Roses, Fear, Nirvana, Rage Against the Machine, Slipknot, Nine Inch Nails and Metallica, to name but a few.
If those guys sound like your thing, and you agree that Dave Grohl is one of the greatest artists of our generation, but that he should probably shut up about HIV, and also get a haircut Dave Grohl you look scruffy, then Sound City should definitely be on your radar.
Dave Grohl and Sound City will appear at the Sundance Film Festival in January 2013, with a view to wider release in February. Keep those ears open.
What is your favourite Dave Grohl project? Nirvana? Foo Fighters? Them Crooked Vultures? That time he played Satan in Tenacious D in The Pick Of Destiny?
About The Author