David O. Russell and Christian Bale reunite for American Bullshit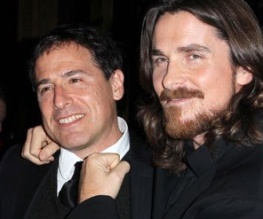 Christian Bale is to reunite with David O. Russell, the director who propelled him to Oscar glory in The Fighter, for an inspired-by-true-events crime drama.
American Bullshit is based on Abscam, a landmark sting operation run by the FBI in the late 70s and early 80s. Using a 'fake sheikh' reminiscent of the favoured entrapment method of the News of the World (RIP), a team of FBI agents headed up by a convicted conman offered bribes to various senior public figures for all manner of sneaky dealings. One Senator, five members of the House of Representatives and sundry other politicians ended up in jail.
Bradley Cooper, who is already starring in Russell's upcoming comedy The Silver Linings Playbook, is apparently also in talks to join the project, although there's no word as to who either he or Bale would play. It seems likely that one or other actor will take on the role of con artist Melvin Weinberg, and since many of the most senior figures to be entrapped were in their fifties and sixties we wonder if the other star will be playing the agent tasked with imitating the fictional Kraim Abdul Rahman.
This is not the first attempt to bring Abscam to the big screen – in the immediate aftermath of the scandal, Oscar-winning director Louis Malle planned an adaptation of the story called Moon Over Miami. The film, which was to star Blues Brothers Dan Aykroyd and John Belushi, was shelved following Belushi's death in 1982; the unfortunate actor was due to play a fictionalised version of Weinberg.
The seemingly endless accusations of corruption which have dogged our current government (most recently Tory fundraiser Peter Cruddas' claims that a 'premier league' six-figure donation to the Conservatives would secure dinner with David Cameron) make now a particularly relevant time to revive the Abscam story. We'll be watching this one with interest…
About The Author