Debut Of J. Edgar Trailer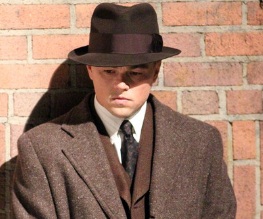 We've all been eagerly awaiting the trailer of Clint Eastwood's biopic of J. Edgar Hoover, the famously corrupt lawman who founded and ran the FBI. And it has, without a shadow of a doubt, completely exceeded our expectations…
Since the 1940s, rumors have circulated that Hoover was romantically involved with Clyde Tolson, an associate director of the FBI who was Hoover's heir and may have been his lover. Judging from the trailer, it seems as though Eastwood may have pushed this story, showing the pair holding hands for the briefest of moments. Interesting.
We've also seen Leo transformed with old man make-up (he still looks good!) which suggests that this biopic will span a greater deal of J. Edgar's life than we had first presumed, covering everything from his early career right up to the later years of his life, when he became a figure of immense controversy. As Leo says himself at the end, "even great men can be corrupted." We're guessing that Eastwood's version will give us an in-depth examination as to how…
Acting titan Judi Dench, as well as Naomi Watts and Armie Hammer, will star alongside Leo, lending their character skills to the screenplay penned by Academy Award Winner Dustin Lance Black. Will they pull off this Eastwood's ambitiously decade-spanning project? One thing's for sure; if this film is a success, we guarantee Leonardo will have finally earned his Oscar. It's time.
About The Author