Del Toro and Perlman committed to reviving Hellboy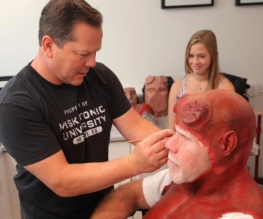 Guillermo del Toro and Ron Perlman have spoken of their mutual wish to finally conclude their critically acclaimed Hellboy series.
Hellboy and Hellboy II: The Golden Army came out in 2004 and 2008 respectively, and were well received by pretty much everyone despite Luke Goss playing a murderous elf prince in the sequel. However, del Toro's commitments with The Hobbit (which he eventually pulled out of) and forthcoming monster movie Pacific Rim meant that Hellboy III: The Massive Fist (or whatever) was indefinitely shelved. Woe.
But all is not lost! During a Pacific Rim panel over at Comic-Con this weekend, a cheeky journo seized the opportunity to ask the director and star (that's del Toro and Perlman again, keep up) if they had plans to paint Ron red one last time. The pair revealed that they'd been inspired to return to the Bureau for Paranormal Research and Defense by, of all things, a terminally ill child.
The Make a Wish Foundation contacted Hellboy's makeup artist to ask if Perlman would be willing to suit up and meet Zachary (pictured below), who has leukaemia. Realising that kids in such dire situations were drawing pleasure from the series was, apparently, enough to spur Perlman and del Toro into action, although both stressed that neither a studio nor Hellboy creator Mike Mignola had been approached about the project.
In any event, it'd be a dreadful shame to leave such a visually and creatively rich series incomplete. Perlman had this to say:
"The [first] two movies were really set up to have this unbelievable resolve. Everything that was done in both movies was leading up to this destiny, this… written in stone, oracle, of what Hellboy has been summoned to Earth to do. To not do it, particularly in light of the scope that Guillermo is thinking of for the resolve, to not do it would be in my mind a little bit of a shame."
We're with you, Ron, you and your colossal craggy face! Hellboy forever!
Would you watch a third Hellboy film? Let us know below!
About The Author