Despicable Me 2 debuts the laziest trailer of all time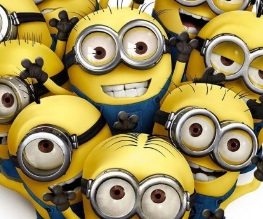 We're not saying that we're not excited about the upcoming Despicable Me 2 movie. Nobody's saying that. All we're saying is that the new trailer for the minion-stuffed comedy sequel to hit film Despicable Me is the laziest and most lacklustre trailer of all time.
First of all, yes, it's amusing. We enjoyed seeing the mischievous minions back in action. We loved seeing Steve Carell reprise his role as Gru and get down to the very serious task of kissing his adorable three adopted daughters goodnight. And, sure, we quite liked seeing how Kristen Wiig tackle new clumsy new character Lucy Wilde. But did we really need two scenes of the movie strung together, hashed together with a few titles and choppy-choppy bits at the end? Not really.
Take a gander at the new Despicable Me 2 trailer for yourselves if you don't believe us…
What did we tell you? Utter laziness. However is anyone else impressed by the Eminem song playing in the background? Us too. It's so deliciously out of place that it works. it really does work, doesn't it?
Rubbish trailer or not, Despicable Me 2 will be hitting cinemas later this year, bringing with it a whole host of bad guys, bad guys turned good guys turned bad guys, bouncy yellow minions, plenty of fluffy unicorn references and an all-star cast. We're not just talking Steve Carell and Kristen Wiig; we've also got Al Pacino, Miranda Cosgrove, Steve Coogan, Russell Brand, Moises Arias and Elsie Fisher to look forward to. So why not delete that trailer from your memory and go into cinemas with an open mind? We're pretty sure they'll be at least one laugh-out-loud moment to make it all worthwhile…
Did you like the Despicable Me 2 trailer? You're an odd person.
About The Author