Die Hard director John McTiernan heading to jail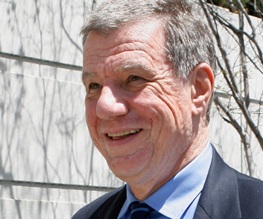 The murky world of Hollywood film noir rose to the surface of reality once again yesterday as John McTiernan, helmer of action flicks Die Hard, Predator and The Hunt for Red October, looked set for a year in prison following a court decision that went against him. The director has been involved in a legal battle since late 2010 when he pleaded guilty to making false statements to the FBI relating to its investigation into the activities of former Hollywood private detective John Pellicano, who is already behind bars. The bizarre case is the stuff of screenwriters' dreams, involving determined federal investigators, taped evidence of McTiernan's deceit and court battles stretching back years.
Seven years ago, the Last Action Hero director was questioned by authorities about the Pellicano affair, when he insisted that his involvement with the shady investigator was limited. However, when later presented with taped evidence proving that he had hired Pellicano, McTiernan submitted a guilty plea and was subsequently sentenced to serve a year in prison and pay a $100,000 fine.
The subsequent legal battle has centred around attempts by the director to change his plea and suppress digital recording presented to the court by the FBI. In that recording, McTiernan can be heard discussing the use of an illegal wiretap by Pellicano, whom he had hired to investigate producer Chuck Rover. McTiernan's lawyers insist that no wiretap was ever used. However, the crux of the case against him is not that he was involved in the wiretap, but that he lied to the FBI. McTiernan argues that he only did so because he was falsely accused.
The case's journey through the courts looked set to have finally come to an end yesterday after the US Supreme Court (yes, the Supreme Court of the United States of America, final arbiter of justice for 350,000,000 Americans was considering the merits of this petty case) rejected his appeal. It's not quite over yet though, his lawyers insisting that the U.S. District Judge who sentenced him made hostile statements against McTiernan in court and should be recused. Since said judge Dale Fischer will be the one to decide upon his incarceration soon, it's unlikely that the Basic director will see the light of day for much longer. Cue a battle over the film rights? If you've made it to the end of this article without yawning then perhaps there is a small chance of a niche audience.
Will this news prompt you to review John McTiernan's oeuvre as he bids farewell to his liberty? Will there be a burst of valedictory parties around the world? Or do you think he is the victim of a miscarriage of justice perhaps? LET US KNOW
About The Author